MILE HIGH 69® DRY GIN
by Julica Renn
MILE HIGH 69® is a fine DRY GIN, masterfully handcrafted, unfiltered and distilled from 19 select botanicals in an elaborate batch production process. The gin is not subsequently flavoured, coloured or sweetened.
In MILE HIGH 69® you are choosing a GIN of the highest quality, with a pure and clean taste, made in small batches and sealed by hand.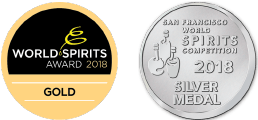 Award-winning
Just five months after its market launch, MILE HIGH 69® won two international awards: gold at the 'World Spirits Award 2018' and silver at the 'San Francisco World Spirits Competition 2018', confirming MILE HIGH 69® as one of the world's finest gins.
Handcrafted
19 select botanicals
Batch distilled in small quantities
100% ORGANIC
No subsequent flavouring, colouring or sweetening.
The Mile High Club

Even though the legendary Mile High Club is only really a commonly used saying, the term has nonetheless been around for more than 100 years. Anyone who has ever had sex on board a plane is considered a member of the club…


Mile High 69®
distilled by Julica Renn
The distiller, Julica Renn, is also a keen pilot. With her love of experimentation, she is responsible for the composition of this extraordinary gin at the traditional family-run distillery by Lake Constance. Her declared aim: 'To pour as much passion as possible into the glass!'…
Mile High 69®
Handcrafted "love"ly dry gin